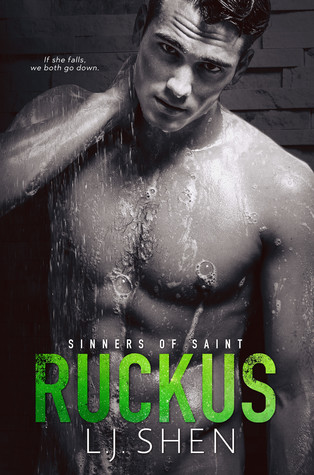 This story was just outstanding! L.J. Shen did a phenomenal job! I loved Dean and Rosie. Both had real issues that they were dealing with and I also loved how Rosie never let her illness determine how she lives her life.
The book goes back and forth from the past to the present and we finally get the whole story on how Dean and Rosie came to be. I truly felt heartbroken for Rosie at times because everyone around treated her as if she would break at any moment. Everyone except Dean that is. This was a

roller-coaster

of a story and L.J. did not disappoint. I honestly think this story was better than Vicious (sorry guys, my opinion). Both characters had real issues to deal with and you do feel connected to both. Dean and Rosie have a difficult road ahead of them, but will their love be enough to overcome the obstacles still in their way?
This was an outstanding story and I cannot wait to get my hands on the next one which I know will be just as good!
ARC kindly provided in exchange for an honest review.
Series: Sinners of Saint #2
Genre: Contemporary Romance
Release Date: May 26, 2017
They say that life is a beautiful lie and death a painful truth. They're right.
No one has ever made me feel more alive than the guy who serves as a constant reminder that my clock is ticking.
He is my forbidden, shiny apple.
The striking fallacy to my blunt, raw, truth.
He is also my sister's ex-boyfriend.
One thing you should know before you judge me;
I saw him first. I craved him first. I loved him first.
Eleven years later, he waltzed into my life, demanding a second chance.
Dean Cole wants to be my bronze horseman. My white knight has finally arrived. Hopefully, he isn't too late.
They say the brightest stars burn out the fastest. They're right.
She sets my mind on fire.
All smart mouth, snarky attitude and a huge heart.
In a world where everything is dull, she shines like fucking Sirius.
Eleven years ago, fate tore us apart.
This time, I fucking dare it to try.
Getting to her is a battlefield, but man, that's why they call me Ruckus.
Rosie LeBlanc is about to find out how hard I can fight.
And conquering her will be the sweetest victory.
L.J. Shen resides in sunny California with her husband, son, chubby cat and wild, wild dreams.

Her passion is to write badass stories, sushi, UFC and her awesome family and friends (not in this order, though. Obviously, sushi comes before writing. Oh, and also the family part.)

She spend the first half of her twenties traveling the world and is now paying all the fun with extra shifts in front of her MacBook. Feel free to contact her on her Facebook page. She loves to hear from her readers.